Many tourists wishing to have a beach holiday in Kenya always ask this question: "Which are the Best Beaches in Kenya?"
Kenya is a phenomenal beach holiday destination for any holiday maker interested in a tropical beach retreat where you're assured of maximum relaxation and comfort.
The Kenyan coast is lined with endless and pristine white sand beaches and swaying palm trees fringing the warm inviting waters of the Indian Ocean. The Kenyan coast has a long and exotic history, its calm blue waters facilitated the traditional passage of the Arabian spice trade.
SOUTH COAST BEACHES
The coastline south of Mombasa is a tropical paradise of palm fringed white sand beaches, where the turquoise waters of the Indian Ocean meet beautiful coral reefs. The protective reefs have created ideal beaches with calm an inviting waters. Days are filled with sunshine and nights are warm with gentle sea breezes.
The offshore reefs are alive with coral, myriad fish, sea turtles and dolphins. Both outer and inner reef walls offer world class diving with spectacular coral gardens and fish species. At Kisite-Mpunguti, a Marine Reserve has been established around beautiful Wasini Island, an ideal day trip for divers and snorkellers.
Diani Beach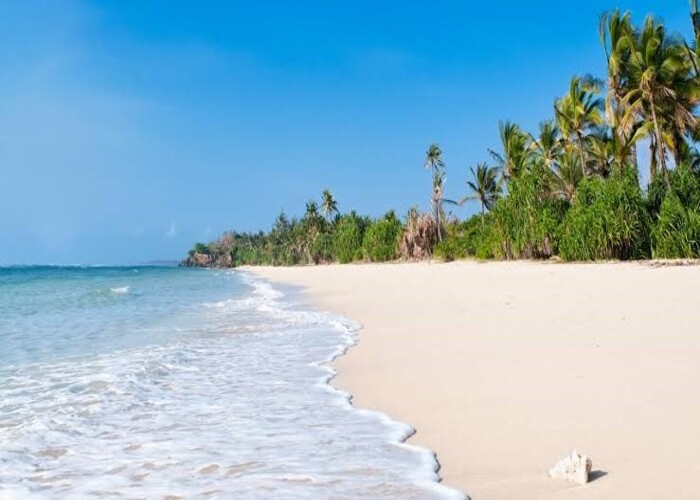 Diani Beach which is located 30km from Mombasa is the most beautiful beach in Kenya and also one of the best in the world. Diani has on numerous occasions been awarded as the best coastal beach in Africa. It is a perfect place to explore the coastal attractions and also experience the fascinating culture.
There are a number of activities you can indulge in while here apart from sun bathing in the warm sandy beach. If you're interested in active adventure activities such as snorkelling, scuba diving or surfing, then this is the best place. A visit to the nearby Shimba Hills National Reserve will be a rewarding adventure experience where you can also encounter the elephants at Mwaluganje elephant sanctuary.
Kisite-Mpunguti Marine Park located about 50km from Diani is another worthy place to visit. It protects the coral reefs inhabited by dolphins, turtles and a wide variety of fish species.
Tiwi beach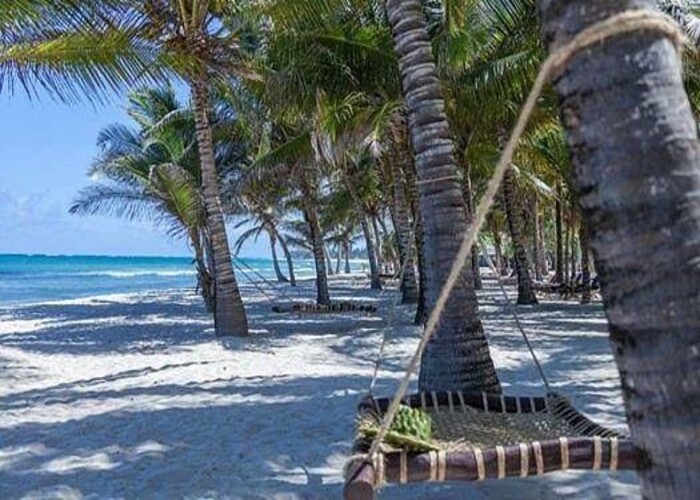 Tiwi is a small village located approximately 17kms south of Mombasa, north of Diani Beach. Tiwi Beach is one of the best stretches of beach along Kenya's coast. It has prestine, white sands, shady coconut palms and casuarinas trees.
Although Tiwi Beach has limited accommodation facilities, it offers the best snorkelling spots, you can actually touch the coral reef as you walk along the shores of the Indian Ocean.
From Tiwi you can also engage in the same activities as Diani since they are just nearby.
Gazi Beach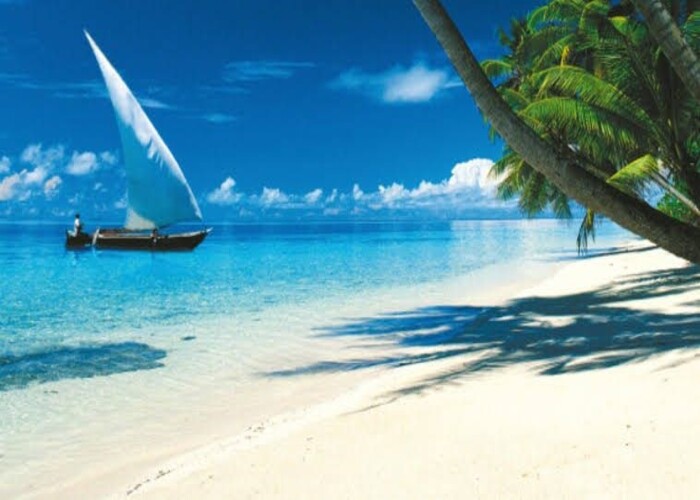 This hidden gem is one of the best beaches in Kenya. It's located only 3km from Gazi Town and is ideal for a private and quiet getaway due to the fact that it enjoys a secluded location.
Being an ideal place to unwind with your loved ones, this beach offers the utmost privacy that one looks forward to on a vacation. Surrounded by lush palm vegetation and some luxury lodges, this beach is a must visit and one must experience.
NORTH COAST BEACHES
These beaches are located north of Mombasa Island which incude; Nyali, Bamburi, Shanzu, Vipingo, Watamu and Malindi which are home to a wide range of World Class resorts with fine cuisine and services.
The coastline North of Mombasa is a world of enthralling history and natural beauty. The coast is lined with pristine palm fringed beaches, and the calm inviting waters of the Indian Ocean.
Nyali Beach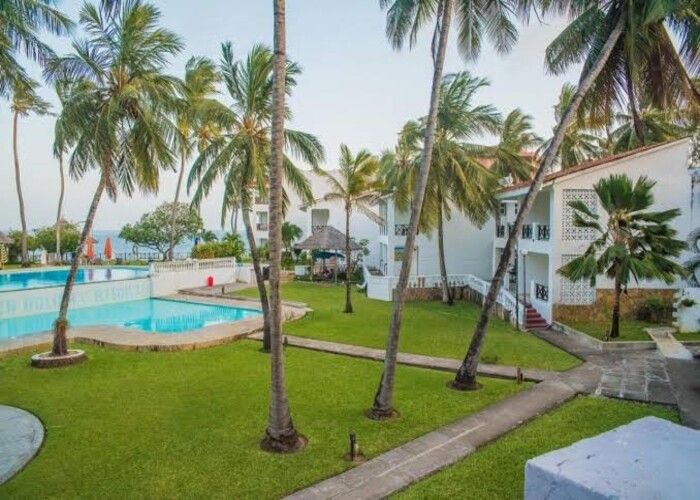 Nyali is a great beach located just minutes outside of Mombasa Island as you head to the north. Due to its close proximity to Mombasa city, it is ideal for those who want to sample the beach life and also the coastal city experience. If you're more interested in relaxing, the white sandy shoreline is ideal for making sun bathing or just strolling along the beach. Nyali is rarely crowded, and it is one of the best places in Kenya to try surfing.
Bamburi Beach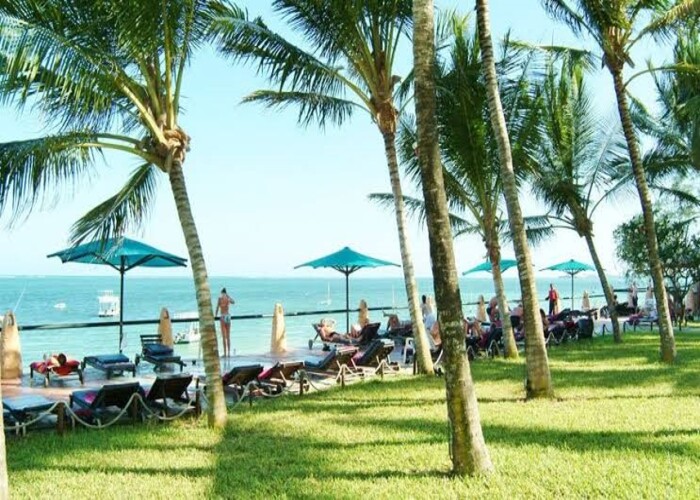 As you drive further north past Nyali beach, you'll get to Bamburi Beach. It offers a wonderful beach retreat for those you want to spend time in the sea and in the sun. Right off the coast there is a coral reef, which makes the spot a great place for anyone who wants to do some snorkeling or scuba diving.
There are numerous beach resorts that lines along the beach and this is definitely a top tourist spot in Kenya for a beach getaway. For a truly unforgettable experience, you can ride on the back of a camel along the sands of Bamburi Beach. Alternatively you can just relax and enjoy the beautiful views over the water of the ocean.
Shanzu Beach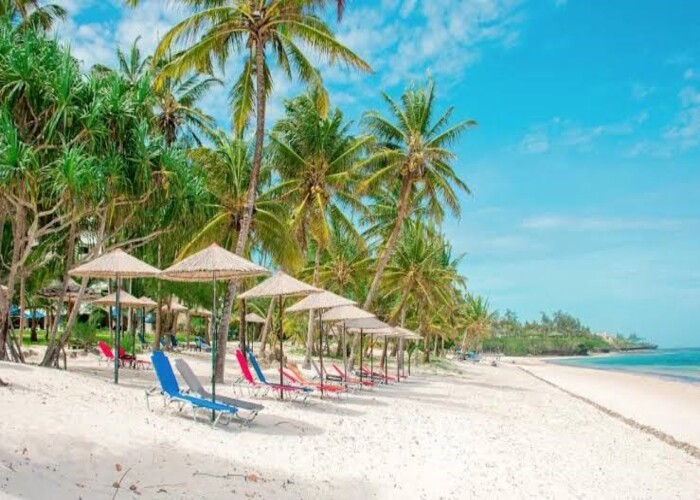 Shanzu Beach is just a few kilometers from Bamburi off the Mombasa-Malindi Highway. The sea here is clear and refreshing, and the sand is white and dotted with coconut palm trees. Shanzu Beach is home to a number of exclusive resorts.
When you visit Shanzu Beach, pay close to attention to the tides. The beach looks completely different during low tide and high tide. If possible, plan a walk along the coast at low tide, because you can go for miles on foot in either direction.
Vipingo beach
Vipingo beach is located near Kilifi town in a coastal area which consists of Swahili villages and lies about 30 kilometres north of Mombasa. Vipingo has an isolated and important pocket of coastal forest, providing an important sanctuary for many coastal forest species of flora and fauna. The forest meets with white sandy beaches, and old coral cliffs and on spring high tides the Indian ocean laps at the feet of this valuable, yet threatened ecosystem.
Lush greenery borders the sandy coastline on one side, and on the other you'll find the clear blue waters of the Indian Ocean.
Watamu Beach
Watamu is a charming village along Kenya's coastline, and it is well known for its pristine white sand. As part of the Watamu National Marine Park, this is a great spot for scuba diving or snorkeling. The coral reefs are home to all types of colorful aquatic creatures, and they also help to create breaks for surfing enthusiasts.This tranquil haven is home to several well established resorts, and many private guesthouses scattered through the forest along the deserted shore.
When the tide goes out, you can walk out into the shallow water for miles.
Malindi Beach
Malindi is a famous destination in Kenya for a number of reasons. First, it is where explorer Vasco da Gama first landed in East Africa. Today, it is one of the most popular beach destinations in Kenya offering an amazing climate, beautiful views and plenty of wonderful beach resorts. You might try some sailing, windsurfing, deep-sea fishing or snorkelling in the coral reef south of Malindi town.
Northwest of Malindi is the spectacular Marafa Depression popularly known as Hell's Kitchen. A series of sandstone gorges and gullies, this unique and other stunning landscapes has become part of local folklore.
The unique Arabuko Sokoke Forest reserve hide a world of wonders. In the cool of the forest winding paths will take you in search of rare endemic birds and mammals, and herds of Elephants.
The forest holds another secret, the lost town of Gedi -Gedi ruins, a deserted trading Swahili town hidden deep in the forests, whose winding passages and crumbling walls tell of a long and mysterious past.
Lamu Island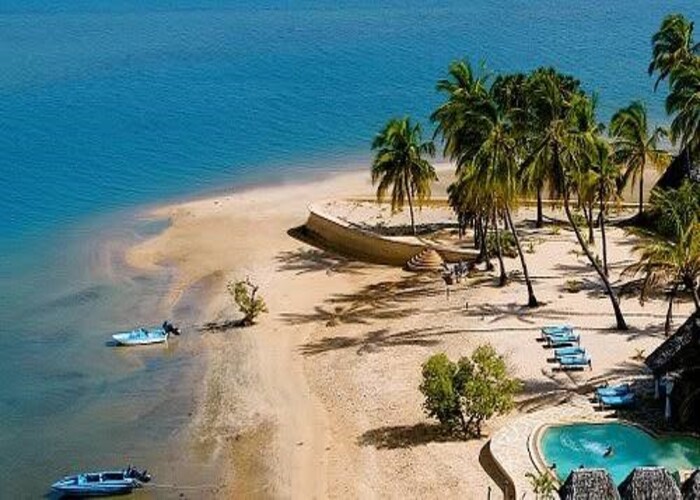 Lamu is a peaceful tropical island of rolling dunes and endless beaches, where tiny villages nestle among coconut and mango plantations and lateen sailed dhows ply the waters. But Lamu's real attraction is its Old town. Lamu is one of the best beaches destination in Kenya as it is completely pedestrian friendly, and donkeys are the most popular means of transport. You can explore some of the island's many beaches on a dhow boat, and these dhow tours are a huge part of the local economy.There are no vehicles on Lamu.
The winding streets of the towns are best explored on foot. Shela village and the beaches are also accessible by foot. Alternatively dhows regularly carry paying passengers back and forth from Lamu town to Shela. To access the surrounding islands of Manda or Pate, either takes an organized Dhow Safari or for the adventurous traveller, just hitch a ride on a passing dhow and explore.
Get in touch to learn more on which are the best beaches in Kenya.