Things to Know about Masai Mara
Masai Mara national reserve is one of the most visited reserves in Kenya. Here you'll find things to know about Masai Mara, a reserve famous for its wealth in wildlife both predators and plain grazers. It is one tourist destination in Kenya that will always have a surprise for you and no matter how many times you visit, you'll never get enough of what this natural theater of wildlife has to offer. The reserve boasts of a vast savannah wilderness dotted with bushes and isolated trees and a riverine forest along the Mara river that gives life to this expansive reserve. The reserve has acquired a high flier status having been named "the seventh wonder of the world". The seventh wonder of the world is the spectacle of the annual wildebeest migration between Masai Mara and Serengeti.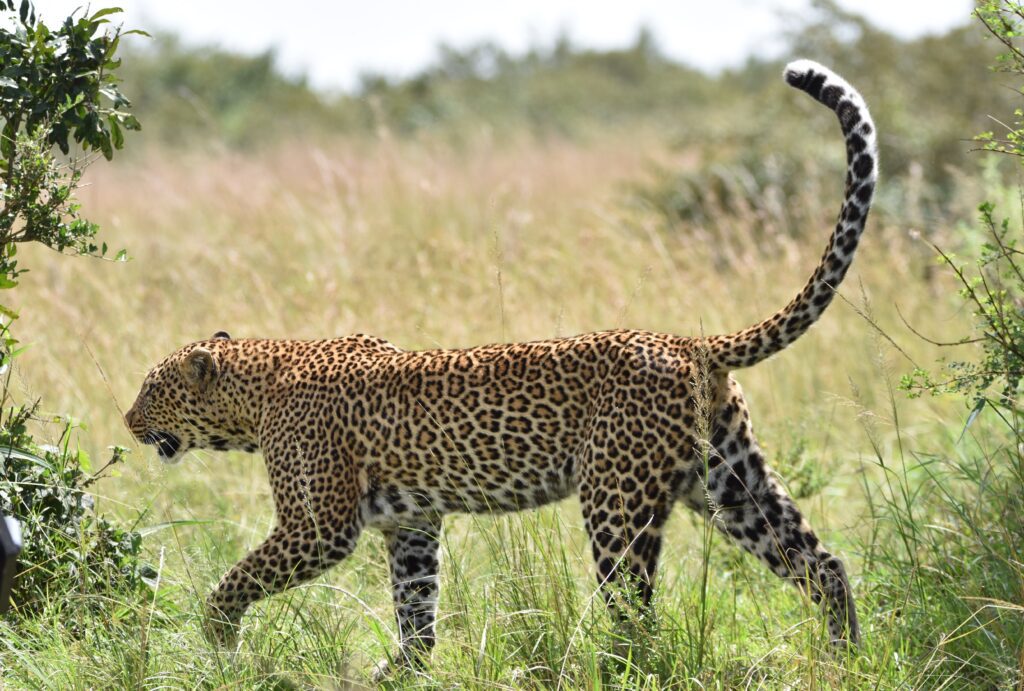 This famous reserve is found on the south western part of Kenya, sharing not only a border with our neighbor Tanzania but also a diverse and incredibly massive number of wild animals forming the world's best wildlife safari destination.
'Mara' means 'spotted' in the Masai language, which is spoken by the ancestral residents, the Maasai people. It refers to how the Mara is dotted with balanite trees, isolated forests and craters when looked from afar.
The Masai Mara national reserve stretching over an area of 1,510 km². On crossing the main bridge from the reserve you get to the Mara Triangle. The Mara Triangle is one third of the Maasai Mara National Reserve, with an area of 510 km². The greater Masai Mara ecosystem also consists of several conservancies that border the reserve. These conservancies are privately owned by several Maasai families. Lodges and camps lease the land from the Maasai which gives these Maasai families the chance to invest in their communities by funding conservation initiatives.
Masai Mara Conservancies
Some of the conservancies in Masai Mara that offer authentic adventure experiences include: Olkinyei Conservancy, Mara North Conservancy, Naibosho Conservancy, Lemek Conservancy, Olare Motorogi Conservancy, Siana Mara Conservancy and Olarro Conservancy.

Masai Mara weather

The weather in Masai Mara is ideal for safari tours year-round. Situated at an altitude varying from 1500 to 1900m, you can expect pleasantly warm daytime temperatures and much cooler nights. On average it rains approximately 1400 mm per year. You are most likely to encounter rains in April and least likely to experience rains in July.

Mara Landscape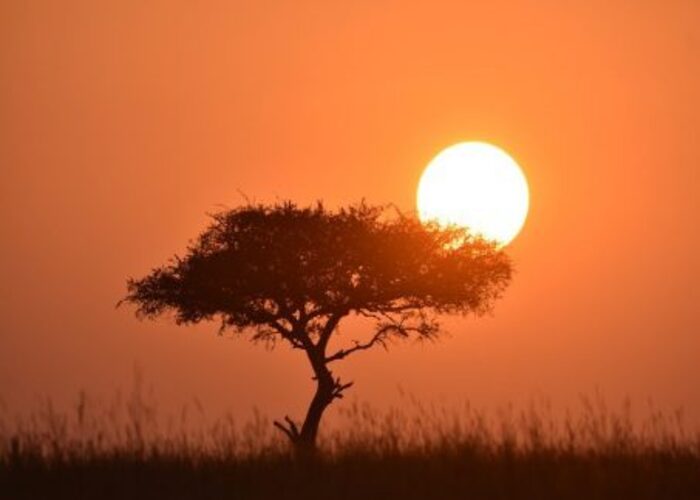 Masai mara forms the northern-most part of the Mara-Serengeti ecosystem. The landscape is dotted with thorn trees, kopjes and craters, and the reserve is drained by its major rivers: the Sand, Talek and Mara Rivers. The Mara's terrain is mostly open grassland with small seasonal rivers.
Masai Mara Wildlife and the Wildebeest Migration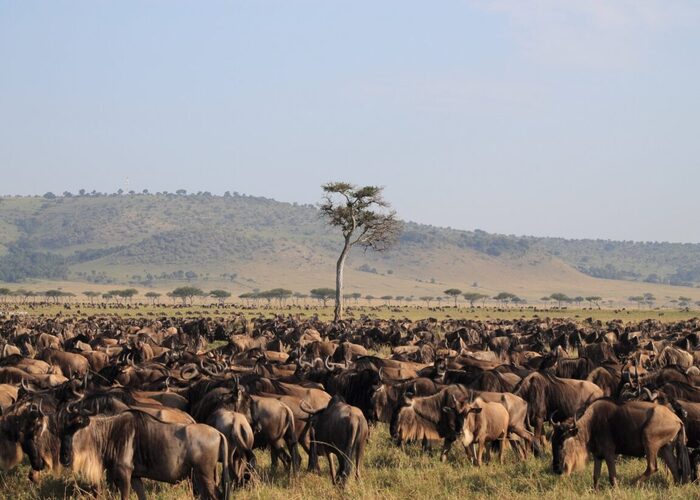 The Mara is a rewarding safari destination which offers many unique experiences. It hosts over 95 species of mammals and over 570 recorded species of birds. With abundance of wildlife like elephant, buffalo, zebra, giraffe, hyena, and the Mara's celebrated big cats: lion, leopard and cheetah. It's also home to millions of wildebeests accompanied by zebras and gazelles that traverse the grassy plains during the annual migration as they move from Serengeti National Park in Tanzania and cross to Masai Mara in Kenya. A spectacular mass movement that is a must-see for all nature lovers.
During migration season the big predators come to life. The endless mass movement of migrating prey offers the big cats an easy chance to grab a meal. The cats are also easy to spot during this period. Lions, leopards and cheetahs grow stronger during this time of year and are able to have healthy little ones with plenty of food to grow.
Find out amazing facts about the annual wildebeest migration
Mara River Crossing : The wildebeest migration is nothing short of amazing. You can watch as thousands of migrating wildebeests and zebras brave the crocodile infested Mara River. Best time to experience this spectacular action in Masai Mara is from August to October. A very important thing to know about Masai Mara to be able to plan in time for your Masai Mara migration safari.

Maasai Cultural tours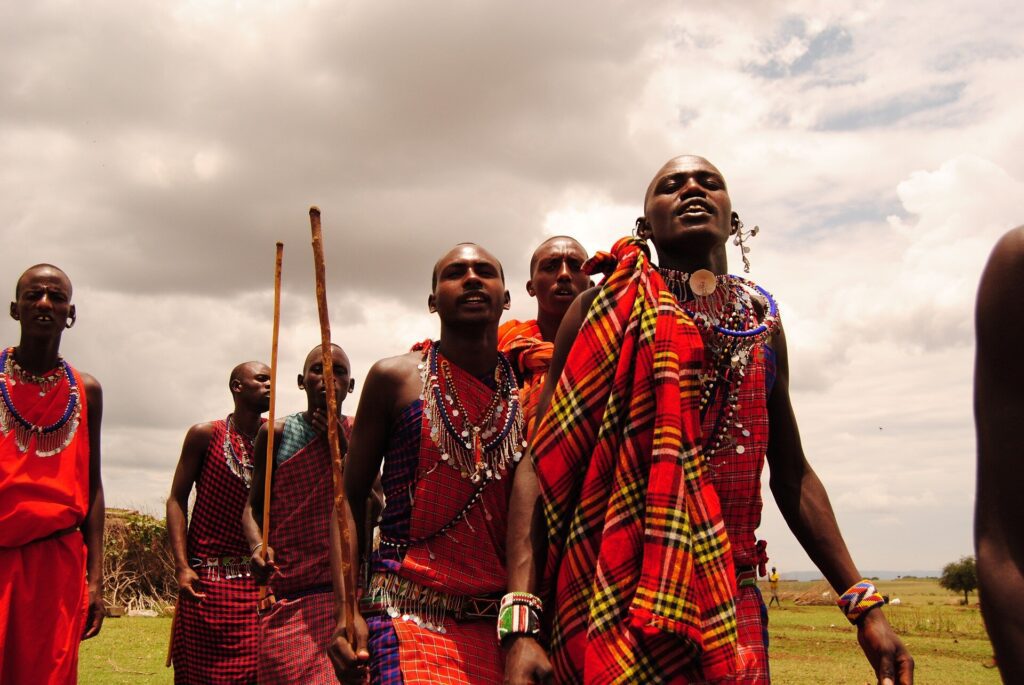 By visiting a Maasai village, you'll learn about the distinct Masai lifestyle. The Maasai, one of Kenya's most popular ethnic group, are part of what makes a visit to the Masai Mara so unique. These semi-nomadic pastoralists have a rich and fascinating culture and visiting a Maasai village can be one of the most exciting experience.

Baloon Safaris in Mara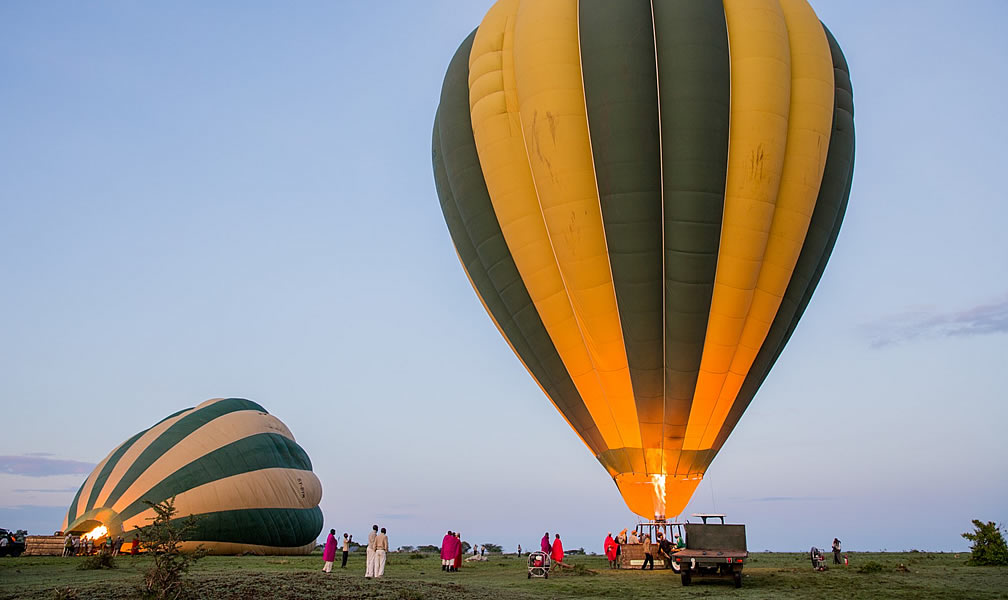 This once in a lifetime experience take offs at the break of dawn, around 6am, gliding silently and with the ride over the savannah grasslands below, you may spot a variety of wildlife. The flight lasts an hour and ends with a "Champagne Bush Breakfast" at the balloon landing site in the wilderness.

Walking safaris in Masai Mara

Walking in the Masai Mara Reserve is not allowed and it only takes place in few selected areas and escorted by armed guides/rangers. But you can embark on walking safari experiences by visiting the conservancies around the reserve where authentic walking safaris are offered.

Masai Mara Entrance Fees

One of the most Things to Know about Masai Mara is the entrance fees. Entry fees to Masai Mara is based on the location of the Camp or Lodge at which one is staying at in the Reserve.
NON RESIDENTS
Non resident adult inside the reserve – $70
Non resident adult outside the reserve – $80
NON RESIDENT CHILDREN
Non resident child inside the reserve – $40
Non resident child outside the reserve – $45
EAST AFRICAN RESIDENTS
Resident Adult – Ksh. 1,200
Resident Child – Ksh. 300
EAST AFRICAN CITIZENS
Citizen Adults – Ksh. 1,000
Citizen child – Ksh. 200

Getting to Masai Mara

Masai Mara is about 270km from Nairobi depending on which safari lodge one is visiting. The scenic drive takes about 6hrs in a safari van on a well tarmacked road that reaches the main gate to the reserve- Sekenani gate. Other gates include Talek gate, Musiara gate, Oloolaimutia gate and Oloololo gate to the Mara Triangle. Visitors to the reserve can also take a flight from Wilson Airport and land at one of the numerous airstrips in the Masai Mara.

Which is the Best time for a Masai Mara Safari?

Masai Mara is generally an all year round game viewing paradise, thanks to its abundant wildlife and comfortable climate.
To discover more things to know about Masai Mara, contact Arrow Adventures. You can also check out our exciting Masai Mara adventure Safari packages
The conservancies that border the Masai Mara are destinations in their own right, offering abundant game, spectacular scenery and the exclusivity of only a few camps over massive areas. If you stay inside the park itself on your first visit, it's definitely worth returning to the Mara for a different experience on a conservancy and for the chance to do walking safaris.